For this project I drew and simplified a portrait of the Danish writer Karen Blixen. Then a colour scheme and style of fabrics was determined. Everybody stitched her own version of Karen and in the end the big challenge was to bring them all together into a coherent portrait quilt.
STUDENTS WORK - GROUP QUILTS
I have some very good and talented groups of students and they sometimes make group projects. Here are 'Jars and Cat' and 'Karen' that both are the result of their combined skills. Below are some of the initial inspiration and working process.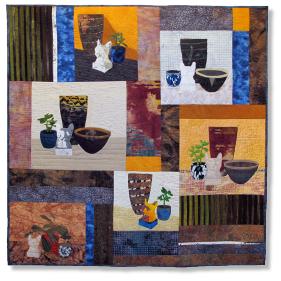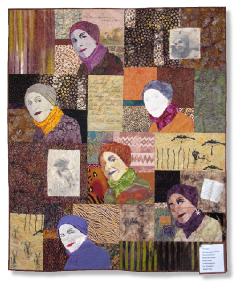 These quilts were made based on still life photos from my home. I made sure that the formats of the inspirational pictures were different, so that there would be a variety not only in the placement of the objects, but also in 'block size'. Then I made black and white variations of the pictures - one emphasizing on the shadows and one showing contours, which is what I handed out. Colour and fabric choice was determined and in the end each of my groups 'blocks' were put together and sent around to everybody in that particular group so that everybody could quilt part of it.